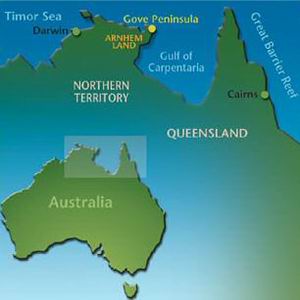 At Garma Festival 2007 a proposal to assist the people of the Homelands create much needed accommodation was discussed by John Mofflin and Jack Thompson. This discussion became the formulation of a training program to instruct the indigenous people of the "homelands" to build simple "pole and frame" dwellings suitable to their housing needs.
Jack Thompson says of that meeting," John had already worked out a lot of the needs and logistics necessary to put this plan into practice. On examining the details of his proposal and consulting some of the senior members of the local indigenous community I had no hesitation in offering whatever practical support I might provide".
Since then a number of other people have been similarly impressed by the project and have given generously of their time and expertise. A group of ten from Cooktown, Cairns, Atherton, Byron Bay, Coffs Harbour, Nambucca, Wauchope and Sydney, all chosen for their diverse skills, met over 4 days to formalise a series of discussions and planning that had been informally discussed over a 6 month period.
This gathering under the lead of Project Officer, John Mofflin, now forms the working party of the Jack Thompson Foundation Ltd, with Jack Thompson as patron, director and spokesperson for the foundation.
The Jack Thompson Foundation Limited was formed on the 4th April 2008.
The establishment of a "Gift Fund" as required by the Australian Taxation Office and referred to as the "Jack Thompson Foundation Trustees" has its own committee made up of prominent Australians, and our Patron Jack Thompson.
Assisting Indigenous Australians to create shelter appropriate to Indigenous Community needs is the core aim of the Jack Thompson Foundation. The Jack Thompson Foundation facilitates access to relevant training programs and combined with related Media productions are an integral part of the foundations Homeland Building Programs.