Project Site: Urapuntja Homelands and Aherrenge Homelands
350 kms N/E of Alice Springs on the Sandover highway
Project Time frame: December 2009-December 2013
The current project is at the Urapuntja Homelands and Aherrenge Homelands,
We are conducting community consultation and engagement with the communities of Urapuntja and Aherrenge Aboriginal Corporation.
The project is a combined housing, hospitality and horticultural (Aquaponics) project in the two communities which are situated in close proximity to each other and both communities suffer from chronic housing shortage, unemployment and poor education outcomes.
The Aherrenge Homelands and Urapuntja Aboriginal Corporation have expressed interest in developing these skills to be able to develop a tourism business in the future. Construction of a Cultural Village and Art Centre is part of this plan.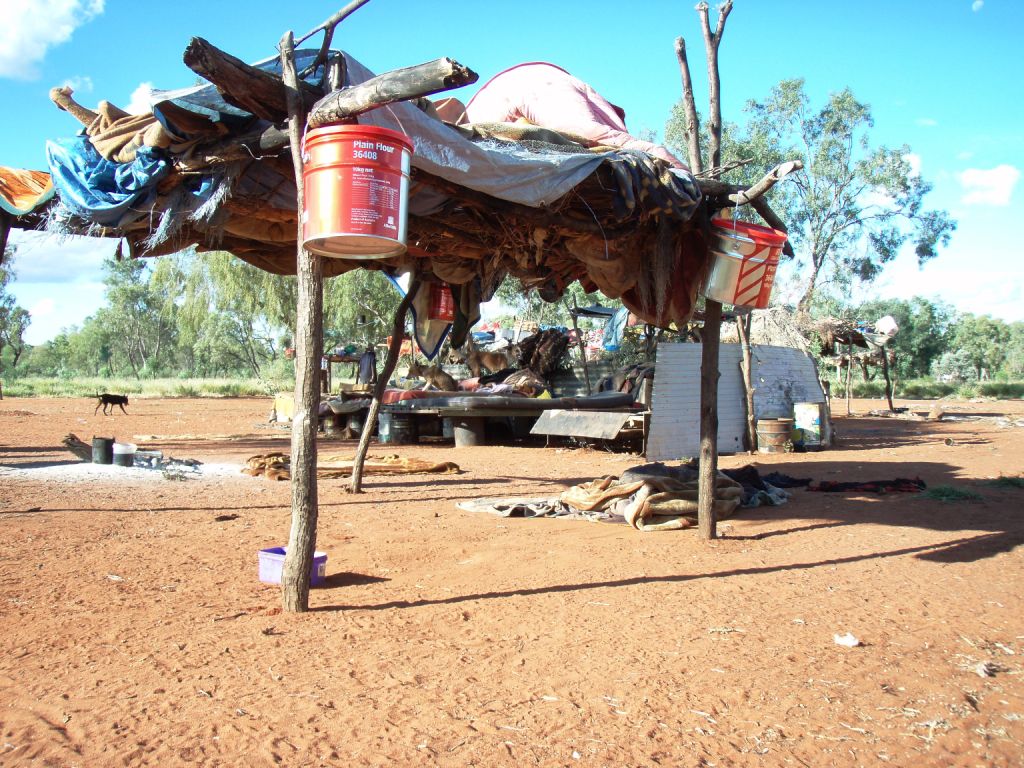 A Urapuntja Homeland Home
A Urapuntja Homeland Home
Construction
This project will see local aboriginal people trained and mentored in the construction of houses, the Cultural village, an Art Centre and an Aquaponics system. Local soil, sand and clay will be used as a base for rammed earth buildings. The skills learned will ensure local people are able to build and, more importantly, maintain these structures in the future.
Skills learned will include steel fixing, concreting, formwork, welding, roof construction, tiling, operating heavy machinery (such as bobcats and backhoes) plumbing and electrics.
Hospitality
Another group of local aboriginal people from the community will, with qualified supervision, be trained in hospitality and taught food preparation in a commercial kitchen which will also provide the catering for both trainers and trainees during the project.
The commercial kitchen will be housed in the Jack Thompson Foundation Training Pod. (TP)
Aquaponics
The Aquaponics system Link will supply fresh vegetables to the community. The horticultural skills will be taught in school and also involve other members of the community. The produce will not only allow the community to be much more self sufficient in their food supply but in the future also gives the community a business opportunity, as surplus may be sold to neighbouring communities.
The Foundation will also be available to assist in developing the necessary business skills and procedures to maintain these enterprises.
The Jack Thompson Foundation Way
The 'Way' of the Jack Thompson Foundation is a two-way concept, "the living ground" and "Two-way learning" the use of these concepts in all we do ensures respect and preservation of cultural values, both in the project community and in the country as a whole.
Two-Way Learning
•    A Philosophy of ONE-NESS
•    Discovering our common humanity
•    Living & Learning together
•    Respecting and Learning the Aboriginal way
•    Individual respect
•    Respect for law
•    Respect elders
•    Respect for family
•    Our knowledge has to be relevant
•    Our knowledge has to be presented to fit into an Aboriginal worldview
•    Our knowledge has to fit into their belief systems
The Living Ground
The 'Living Ground', is key to culturally appropriate work and ongoing employment outcomes. The 'Living Ground', is the local resources that are available 'On Country", that can be used in construction of building, aquaponics systems etc, this could be trees for timber dwellings, sand and clay for rammed earth, Stone etc.
The 'Living Ground' has sustained the local Indigenous populations for over 40,000 years.
Reasons for success of JTF projects
•    Local Ownership
•    Using the community's design
•    Landownership
•    Ownership of knowledge
•    Ownership of process
•    Ownership of project
This project will enhance health and well-being and address the chronic shortage of housing and employment of local aboriginal people at Aherrenge and Urapuntja Homelands by:
•    Facilitating and mentoring training of local aboriginal people to build their own homes and from the 'living ground', (locally sourced materials)
•    Mentoring and facilitating the training of 15 trainees in managing Aquaponics/Horticulture systems. Leading to employment in food production and sale.
•    Facilitating and mentoring the construction of a commercial Aquaponics/Horticulture system supplying fresh local produce at a reasonable price to community member.
•   Facilitate and mentor local aboriginal people to build their own businesses in:
◦    Hospitality industry to accommodate and cater for tourists coming into the community.
◦    Horticulture business selling fresh food produce from hydroponic project.
◦    Building and building maintenance.
◦    Small engine repairs
◦    Events management
◦    Art
◦    Tourism
JTF will:
•    Provide a commercial kitchen to facilitate the training in hospitality, which will lead to employment outcomes in tourism, within the operation of the cultural village and Art Centre complex
•    Mentor and facilitate the construction of new homes and cultural village by providing community consultation and engagement, tradesmen, mentors and the site-specific machinery and tools over the three-year project.
•    Mentor and facilitate the training offered by the Centre of Appropriate Technology and other Registered training organisations
•    Provide accommodation for project manager, coordinators, tradesmen, trainers and trainees and stakeholders in the TP's
•    Provide class room training facilities and equipment
To ensure the success of this project JTF is working alongside NGO's and other institutions.
JTF has an Alliance with Hands on Learning Australia, Jimmy Little Foundation and Salt water projects and is currently forming partnerships with accredited-training Organisations;  who will provide the accredited training.
JTF is also currently forming a partnership with the Sydney University.
The Sydney University Architectural Faculty will provide on site design and planning support.
The Sydney University Faculty of Economics and Business will engage with the project by delivering systems that enhance the training and professional development of local aboriginal people. Leading to the effective management of enterprises that will be developed, with the help of training and mentoring received throughout this project.
The Faculty of Economics and Business, Council of Remote Area Nurses Association, (CRANA Plus), Hands on Learning Australia and The Jimmy Little Foundation are particularly interested in helping develop the Aquaponics enterprises, that will produce fresh vegetable and fish for the communities.
PROJECT OUTCOMES
The local Aboriginal people living in Aherrenge and Urapuntja Homelands will benefit by:
•    Increased economic and social resilience,
•    Increased housing leading to relief of overcrowding
•    Increased health from supplies of fresh locally produced food
•    Increased employment leading to economic sustainability
•    Acquisition of skills and knowledge that will allow the community to be self reliant and culturally cohesive.
The Jack Thompson Foundation Ltd has received requests from Urapuntja and Aherrenge Aboriginal Corporation to provide project managers and coordinators, administration, specific tradesmen and volunteer trade mentors as well as training facilities for the 3-year Urapuntja and Aherrenge project.
This project will change people's lives in these communities,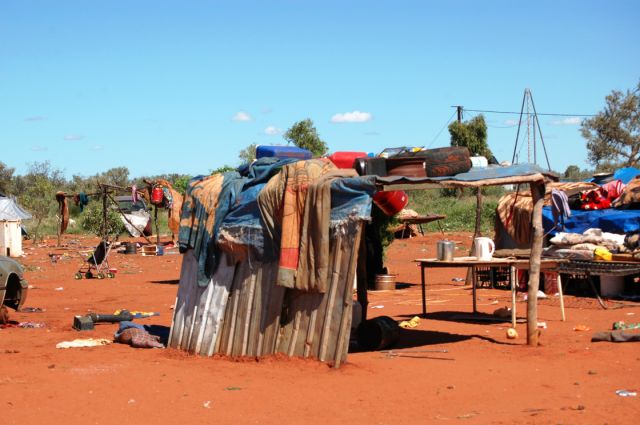 They will move out of homes like this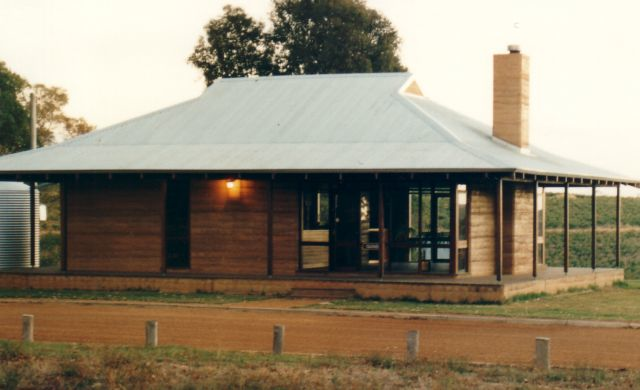 Into homes like this
We need your contributions to facilitate the construction of sustainable, rammed earth buildings and mentoring of the local aboriginal people to build the capacity and resilience of the Urapuntja and Aherrenge Homelands.
We have DGR status and your donations are tax deductible.
For donations of building materials, goods, tools, vehicles or labour please contact us Click Here
For all monetary donations please follow link to our pay pal account Click Here or send cheques to:
Jack Thompson Foundation Ltd, PO BOX 301, Cooktown, Queensland, 4895
Thank you for your generosity