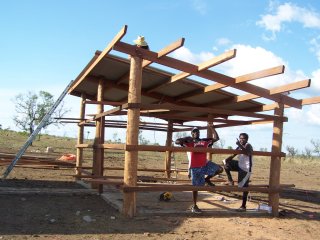 Pilot Project – Construction stage.
During 2008 the Jack Thompson Foundation Pilot Project was in North East Arnhemland .
Twelve Trainees and one mentor worked tirelessly and enthusiastically. The trainees will be certified for on-ground felling and by the end of 2009 will gain their certification as a Tree Feller.
The trainees participated in skills learning programs for:
tree felling
chainsaw operation
forestry husbandry
sawmill accreditation
heavy machine operators ticket
cutting and preparing timber
Pilot Program – Training
In the Forestry Project 10 participants completed the year and we have a further 15 on the Trainee waiting list.
During the Forestry Project there were:
2-3 trainees on the portable saw mill
2-3 in the yard docking logs in preparation for milling
2-3 in-field cutting trees and 2-3 learned the art of driving a backhoe for retrieving felled logs and transporting to the timber yard in readiness for milling.
Pilot Program – Training
Training begins with the use of simple chainsaw and bush mill technology, to fell and mill local trees.
With the milled timber simple "pole and frame" dwellings are being built, by them suitable to their housing needs.
Training Packages are being designed to accommodate the literacy and numeracy levels of participants. Training media will include DVD instructional media and will be language specific with english sub-titles. Training Manuals are pictorial where possible.
December 2008 at Nhulunbuy, the Gumatj Association with assistance from Darwin Skills and the Jack Thompson Foundation saw 12 indigenous youth complete their Introductory Training in Chainsaw Operation, Sawing and Tree felling.
A further 10 locals, workers and two mentors, were involved in construction of the Parolees Accommodation at Garrathiya Station in North East Arnhemland.